Government Contracting Training
So you've found a contract that you want to bid on, and you're ready to get started.  And…you realize, you don't know how to start writing a bid or proposal.  Or, you've submitted a few proposals, but want to start winning more of them.  You aren't sure what you could do to improve, and reviewing other winning bids hasn't made it clear what you can do next time.  No problem, there are people who can help.

Your first call should be to the Oregon GCAP (Government Contract Assistance Program):  http://gcap.org
GCAP is there to help small businesses compete successfully in the government marketplace.  They can give you training and counseling, help you get your certifications ready, help you understand GSA schedules and the details of government contracting.  Best of all, they're free.
If you're a minority-owned business, there are two resources you need to know about.  The National Association of Minority Contractors, Oregon Chapter, is a voice for minority contractors.  They're a great organization, offering resources, support, and connections to minority contractors.  They also host events on alternating months, and they're a fantastic way to connect with general contractors, government agency representatives, and other contractors.  Their motto is Building Bridges, Crossing Barriers.
The Metropolitan Contractor Improvement Partnership is another incredible organization, offering support to MBE/DBE firms to help them build their business capacity.  MCIP offers workshops and training, as well as one-on-one mentoring services.  They're also a fantastic resource to help you connect with public agencies and primes.  Their motto is Building Capacity for Minority Contractors.
If you're in Washington State, you can call the Washington PTAC (Procurement Technical Assistance Center):  http://washingtonptac.org
Get your business certified!
If your business is woman-owned or minority-owned, you probably want to get certified.  If your business is just starting out, you probably want to get certified.  But what does that mean, get certified?  Getting your business certified is a process you go through with the State of Oregon, to establish that your business is minority/woman-owned, emerging (under so many employees, under so much annual revenue), or owned by a service-disabled veteran.  Once you're done, you can call your business COBID-certified.

Getting certified opens a lot of doors.  Check out these open RFPs for COBID firms.  Many of the regional governmental agencies and contracting companies are looking for qualified COBID-certified contractors.  Cities, counties, and state agencies have aspirational targets for spending a certain amount of their annual contracting budget on COBID-certified firms.  It's a great way to start a conversation with these agencies!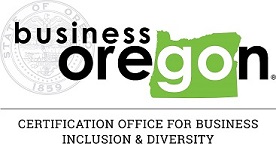 Need to register your business with the State of Oregon Secretary of State's Office?
If you haven't officially started your business get, here's where you can do that.
Click here to start registering your new business.
Additional Resources
Get help from Oregon SBDC Network.  Learn how to grow your business with the Online Learning section of Oregon SBDC Network.
Check out Oregon Business XPress.